Industry Forum - NGO leadership: Innovation and social impact
Bringing Global Leaders to Better Practice
Since 2015, the OSC/UBS NGO Leadership Programme (NGOLP) has trained 103 participants from 87 organisations and created a lot of outstanding service projects.
With the affirmative support from UBS, OSC and Global Policy Impact and Social Mission Subgroup (GPISM) of CUHK, an Industry Forum - NGO Leadership: Innovation & Social Impact will be held on 4th December, 2018 at CUHK.
This industry forum is initiated to promote the NGOLP to an international level and aims to form the partnership among stakeholders of the NGOLP, the government, as well as international scholars and policy makers. It serves as an idea-exchanging platform through sharing of philanthropy and social innovation practice from the perspectives of academia, government and funders.
We sincerely thanks our co-collaborators, UBS and OSC, as well as our generous sponsor, GPISM, for supporting our mission and making this Forum possible!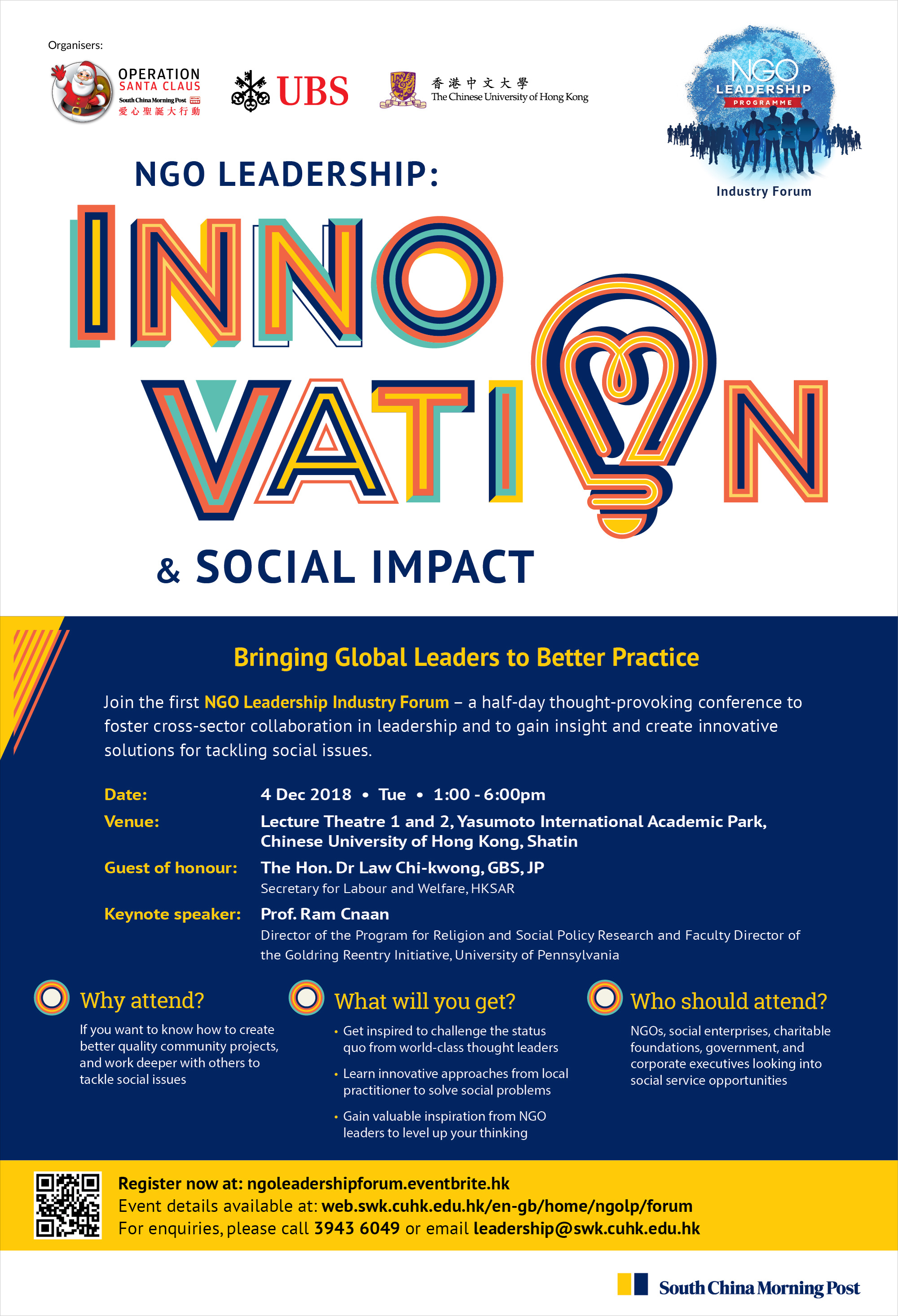 Advisory Committee:
Mrs. Amy Lo, Head of UBS Wealth Management Greater China and Country Head of UBS Hong Kong
Prof. Steven Ngai, Chairperson, Department of Social Work, CUHK
Mr. Gary Liu, Chief Executive Officer, SCMP
Mr. Leung Ka-wing, Director of Broadcasting, RTHK
Organizing Committee:
Chairperson:
Prof. Joyce Ma, Chairperson of NGO Leadership Programme and Professor, Department of Social Work, CUHK
Co-chairperson:
Mr. Hugh Chiverton, Head of English Programme Service, RTHK
Mr. Rob Stewart, Chief Communication Officer Asia Pacific, UBS
Members:
Ms. Ellen Yeung, Senior Manager, Corporate Social Responsibility, Group Marketing & Event, SCMP
Ms. Kumiko Hori, Executive Director, Asia Pacific Head of Community Affairs, UBS
Ms. Sindy Leung, Associate Director, Community Affairs Manager, Greater China, UBS
Prof. Mary Zhou, Director of the NGO Leadership Programme, and Assistant Professor, Department of Social Work, CUHK
Prof. Mooly Wong, Assistant Professor, Department of Social Work, CUHK
Mrs. Monica Yau, Honorary Consultant, NGO Leadership Programme, CUHK
Ms Ivy Wu, Programme Manager, NGO Leadership Programme, CUHK
Ms. Shirley Zhou, Programme Officer, NGO Leadership Programme, CUHK