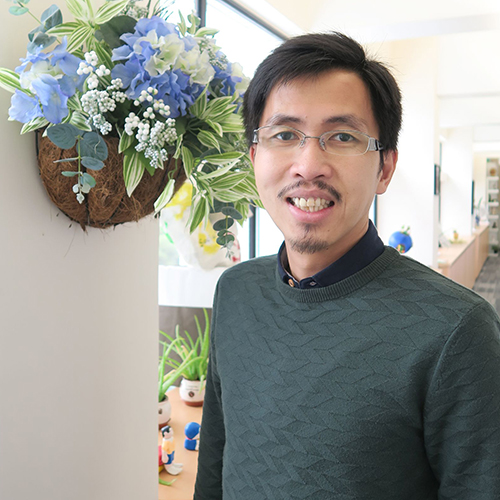 Dr. Cheung Chun-Sing, Johnson
Lecturer
DSW (PolyU), MSocSc (HKU), BSW (HKU), RSW
3943 8537
This email address is being protected from spambots. You need JavaScript enabled to view it.
Research Interests
Children and youth services
Relationship-based practice
Community development
Social entrepreneurship
Social work research
Program evaluation
Selected Publications
Cheung, J. C. S. (2016). Confronting the challenges in using social network sites for cyber youth work. Social Work, 61 (2), 171-173, DOI: 10.1093/sw/sww012.
Cheung, J. C. S. (2016). An exploration of social workers' role in remunerative vocational training: Caring, controlling, or contractual? Qualitative Social Work, 15(2), 231-246, DOI: 10.1177/1473325015588122.
Cheung, J. C. S. (2016). A social worker with two watches: Synchronizing the left and right ideologies. International Social Work, Published online before print on Jan 28, 2016 as DOI: 10.1177/0020872815620259.
Cheung, J. C. S. (2016). The A+ of a practice doctorate. China Journal of Social Work, 9(2), 1-13, DOI: 10.1080/17525098.2016.1231596.
Cheung, J. C. S. (2015). A letter to the late Felix Biestek: Revisiting the seven principles of The Casework Relationship with contemporary struggles. Ethics and Social Welfare, 9 (1), 92-100, DOI: 10.1080/17496535.2015.994980.
Cheung, J. C. S. (2014). Children and youth services from a family perspective: To be or not to be? Social Work, 59(4), 358-360, DOI: 10.1093/sw/swu026.
Cheung, J. C. S. (2014). Behind the mirror: what Rogerian "technique" is NOT, Person-Centered & Experiential Psychotherapies, 13(4), 312-332, DOI: 10.1080/14779757.2014.924429.