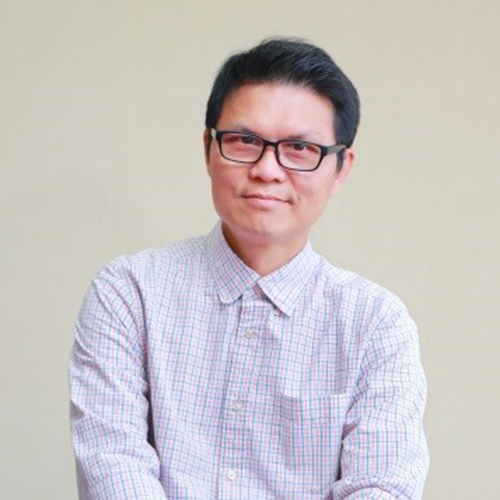 Mr. Chan Kar-choi
Lecturer
B.Sc. (CUHK); MSW (HKU); Res.Dip.SW (University of Toronto); RSW, Psychotherapist - Inactif (OCSWSSW; Ontario College Social Workers and Social Services Workers); RSW (HKSWRB); Assessor – RACAS (Hong Kong Association of Gerontology)
3943 8533
This email address is being protected from spambots. You need JavaScript enabled to view it.
Research Interests
Mental Health
Geriatric Mental Health
Dementia Care & Assessment
Psychotherapy & Group Therapy
Wellness & Holistic Health
Inter-professional Care & Education
Culturally Competent Practice
Curriculum Vitae
Selected Publications

Book Chapter
Baig RB, Chan KC, Campbell J. Challenging Racism in Hong Kong: An e-learning approach to social work education. The Routledge Handbook of Service User Involvement in Human Services Research and Education. 2020 Aug 10. (Book Chapter)
Dong W, Fung K, Chan, KC. Public Health Crisis and the Strength of Community Organizations. Public Health Sciences. China Renmin University Press, Beijing. 2009. p. 288-302 (Book Chapter – in Chinese)
Journal Publications
Lai DW, Chan KC, Daoust GD, Xie XJ. Hopes and Wishes of Clients with Mentally Illness in Hong Kong. Community Mental Health Journal. 2021 Jan 28:1-0.
Chan KC, Chang CW, Effect of a home-based intensive discharge support program aiming at minimizing re-admission on older patients and caregivers. European Geriatric Medicine. 2019 Vol 10: Suppl 1. S101.
Lai DW, Chan KC, Xie XJ, Daoust GD. The experience of growing old in chronic mental health patients. Aging & mental health. 2019 May 2:1-9.
Wong MMC, Leung TYK, and Chan KC. The application of a small group learning approach to social group work teaching-an exploratory study. Social Work with Groups 2018: 1-16.
Lai DW, Chan KC, Yau S. Meanings of Aging of People Living with Mental Illness: Implications to Promoting Healthy Aging Practices. Innovation in Aging 2017. Vol 1: S1. p.864.
Chan KC, Lai DWL, Yau S. Management of residual symptoms and psychotropic medication side-effects among older or soon-to-be-old adults with chronic mental illness. European Geriatric Medicine. Vol 8: Suppl 1. S237-8.
陳加才.香港應全力應對老齡化危機. <紫荊論壇> 2017 Nov-Dec., v.36, p.30-35.
(Chan KC. Aging tsunami – Challenges to Hong Kong. Bauhinia Tribune, 2017 Nov.-Dec., v.36, p. 30-35 - in Chinese)
Chan K, Sadavoy J. Concerns of using the Mini-Cog to screen Chinese Elders of possible dementia. Geriatric Mental Health Care 2016. Vol. 3: 3-4. P.36-40
Chan K, Sadavoy J. Wellness Centre – An Evidence-guided Approach To Delivering Culturally Relevant Community Psychogeriatric Services For Chinese Elders, ISRN Psychiatry. Vol. 2012. Art. ID 815707.
Chan K, Leszcz, M, Choi P, Li S, Siu Y, Chiu A. A Pilot Study to explore the value and applicability of Integrated Group Psychotherapy to depressive Chinese elders. Journal of International Psychogeriatrics. Sept 2011. Vol. 23 (S1) Supp. p.375-376 (Abstract).
Dong W, Fung K, Chan, KC. Community mobilization and empowerment for combating a pandemic. Journal of Epidemiology & Community Health, Feb 2010 Vol. 64 p.182-83.
News Articles
陳加才:以科學態度防疫 保護安老院舍長者 (2022年3月14日於明報_觀點)
陳加才:老有所用—長者就業挑戰與機遇 (2022年 1月28日於明報_觀點)
Awards
2019 - Exemplary Field Instructor Award (CUHK)
2010 - Joel Sadavoy Community Mental Health Award (University of Toronto)
Affiliation
Assessor, Residential Aged Care Accreditation Scheme (RACAS), Hong Kong Association of Gerontology (2017- Present)
Member, Disciplinary Committee Panel, Social Workers' Registration Board, Hong Kong (wef Jan 2023)
Member, International Psychogeriatric Association (IPA) (2008-2013; 2015)
Chair, Chinese Mental Health Network (CMHN, Toronto) (2001-2013)